Refresh page manually for updates
Key points so far:
Red bloc has potential razor-thin majority with all votes now counted
Agreement between all red parties would be needed to form government and allow Mette Frederiksen to continue as PM
Moderate party earlier projected over 9 percent of vote share and decisive role in outcome
1am: Closing blog
I'm going to close this blog now, with all the votes counted.
The story of this election is not over yet. We'll be updating all the news, developments and agreements as the pieces fall into place in the coming days and weeks.
Thank you for joining us this evening.
12:55am: Frederiksen in driving seat
There's jubilation at the red party election events and desolation at the blue ones.
However, it's still unclear what the final outcome of this election will be.
Even though PM Mette Frederiksen now looks in a position to secure enough backing from the left to form a government, she may still push through with her plan to attempt to form a government across the centre, giving centre-right parties a place in power.
What is certain is that she is now in the driving seat in upcoming talks to form a government. Despite has newly-formed party grabbing 16 seats, Lars Løkke Rasmussen's position has been significantly depleted at the last moment.
12:51am: Vote count completed
TV2 follows suit: 100 percent of votes completed, 87 mandates or seats to the 'red bloc'.
Add the one seat they already have from the Faroe Islands, and the two they are expected to get from Greenland, and Mette Frederiksen can — potentially — put together a left wing majority.
12:49am: Red bloc majority?
DR has just changed its projection to 100 percent of votes counted and adjusted the red bloc seat total from 86 up to 87…
12:40am: Still waiting
99.8 percent of votes have been counted now, both TV2 and DR say. But they still do not agree on the number of seats that will go to either bloc.
A single constituency could decide this, but some recounting may be necessary in the morning before anything is final.
12:30am
There are tense scenes at the various party election events at Christiansborg at the moment.
12:27am: "A few hundred votes could decide it"
The election will probably "not be decided until 100 percent" of votes are counted, TV2's head of news Jacob Kwon tweets.
"A few hundred votes could decide it," he says.
Vi er nede på de helt små decimaler. Formentlig bliver det først afklaret ved 100%. Det kan være få hundrede stemmer, der afgør det.

— Jacob Kwon (@Jacobkwon) November 1, 2022
12:20am:
— Michael Barrett (@MLBarrett15) November 1, 2022
12:03am: What do the Social Democrats want?
Interestingly, the Social Democrats are still talking about a "broad government" or centre coalition, despite the emergence of a potential majority.
Education Minister Pernille Rosenkrantz-Theil tells DR she would like to see a broad government. 
Perhaps the Social Democrats think they'll find it easier to govern with parties to their right, rather than the ones to their left.
11:53pm: Hanging by a thread!
This has become a late-night nailbiter. DR still has the red bloc at 86 seats, TV2 puts them at 87. The former broadcaster says 96.9 percent of votes are counted, the latter 96.6 percent.
We are also waiting on the results from Greenland, which could potentially hand the red bloc two more seats. They already have one from the Faroe Islands.
Does this add up to a majority 90 seats or not?
11:47pm: Latest numbers
Here's the latest projection from DR, with vote share, projected seats and, in brackets, seat loss or gain since 2019.
This is with 96.2 percent of votes counted
Social Democrats 27.6 percent, 49 (1)
Liberal 13.3 percent, 24 (-19)
Moderates 9.3 percent, 16 –
Socialist People's Party (SF) 8.3 percent, 15 (1)
Denmark Democrats 8.1 percent, 14 –
Liberal Alliance 7.8 percent, 14 (10)
Conservative 5.5 percent 10 (-2)
Red Green Alliance 5.1 percent, 9 (-4)
Social Liberal 3.7 percent 7 (-9)
Nye Borgerlige 3.7 percent 6 (2)
Alternative 3.9 percent 7 (2)
Danish People's Party 2.7 percent 5 (-11)
Independent Greens 0.9 percent – –
Christian Democrats 0.5 percent – –
11:38pm: Late drama?
A slim chance of a red bloc majority appears to be growing as the final votes are counted up.
While DR is projecting the red bloc to gain 86 seats, TV2 has them at 87. Remember that 90 mandates are needed for an overall majority.
These projections do not include the North Atlantic mandates — which come from elected representatives from autonomous territories the Faroe Islands and Greenland.
There are four such North Atlantic mandates or seats, and they usually (but not always) fall 3:1 in favour of the red bloc.
You can read more about them in this article.
As you may have worked out, 87 seats as projected by TV2, plus 3 North Atlantic mandates could sneak Frederiksen an overall majority and leave Rasmussen's hopes of being kingmaker in ruins.
11:12pm: What is likely to happen next?
I'm trying to pick the bones of Rasmussen's speech to see if I can get a sense of what is likely to happen next.
My own interpretation (so take it with a pinch of salt) is that he's angling for negotiations and wants Frederiksen to negotiate without the condition that she stays on as PM.
In his speech, Rasmussen said the keys to the prime minister's office must leave the Prime Minister's hands "at least for a short while".
DR's political analyst Jens Ringberg says this sends a clear message.
"This is the point where this election evening moves significantly," Ringberg said.
"Because Lars Løkke Rasmussen is now saying that the person who has the keys now must give them up for short while," he said.
"That means he wants a Queen's round [see below, ed.] in order for there to be talks about forming a government. So it might be that Mette Frederiksen can be prime minister again — he also says that — but she must hand over [the keys] now," he said.
Some background on the constitutional process: When the incumbent government does not win an election, a new government can be found through a process known as a dronningerunde (literally a 'Queen's round'). Here, the leader of each party has an audience with the Queen. After this, the Queen nominates a person to lead the new government or lead negotiations to form it. Several Queen's rounds (with different leaders) can be needed before a new government is formed. Some have predicted this will happen this election.
The person who leads the negotiations could be the leader of the party with the most mandates, but that's not a certainty.
10:55pm: One fewer party in parliament
One of the features of this election has been the large number of parties, with 14 competing in the election and 13 of those represented in the previous parliament.
The number certainly makes it more challenging to write an election night blog.
It is set to decrease slightly, with the Independent Greens almost certain to lose their voice in parliament because they have not gained the requisite 2 percent vote share. The Christian Democrats have also failed to enter parliament.
10:47pm: No decision yet on Lars Løkke Rasmussen's preferred PM
Rasmussen has called throughout the election campaign for all the major parties to join in a centre coalition, but has not stated who should be Prime Minister.
That has not changed tonight.
In his speech he said the question "could not be answered tonight" but that Denmark must have a "new government".
With regard to Mette Frederiksen's stated aim of also forming a centre coalition, Rasmussen suggested she might be motivated by wanting to remain in place as PM.
"And it's also possible she will (continue). I don't know. But I know for sure that Denmark needs a new government," he said.
Negotiations will surely take place in the coming days between the Moderates and parties in both blocs.
10:40pm: Rasmussen renews call for centre coalition
Lars Løkke Rasmussen's speech isn't over. He asks for the other parties to tænke sig om (think things over) in light of the incoming results, including those who have "completely rejected" a cross centre coalition.
Without saying it specifically, his comments appear to be directed at the centre-right Liberal and Conservative parties, whom he wants to go into coalition with along with the Social Democrats.
10:28pm: 60 percent of votes counted
While I was watching Rasmussen's speech, the total vote count crept up over 60 percent.
The Moderates are now just in front of the Denmark Democrats again as third-largest party, with 9.2 percent compared to 8.8 percent, according to DR. That would give both parties 16 seats.
The Social Democrats are now projected to improve on their 2019 result with 27 percent, giving the red bloc 83 seats. Not a majority, but they have cause for optimism.
10:26pm: Result will make Moderates "noticed", Rasmussen says
I have to give him credit: Rasmussen is an impressive speaker.
The Moderate election performance shows that there is demand in Denmark for politics of "substance", he says.
"This country is loaned to us and we must return it in a better condition," he continues.
"If the polls hold out more or less, we are going into parliament in a way that will make the Moderates noticed," he says.
10:24pm: Lars Løkke Rasmussen about to give speech
Lars Løkke Rasmussen, arguably the central figure in tonight's proceedings, is about to speak to Moderate party supporters.
10:16pm: Almost half of votes in
We're now at almost 50 percent of votes counted with a number of larger constituencies about to send in results, DR reports. We'll keep you updated on major changes to the projected results.
10:14pm: Proof of cycling recklessness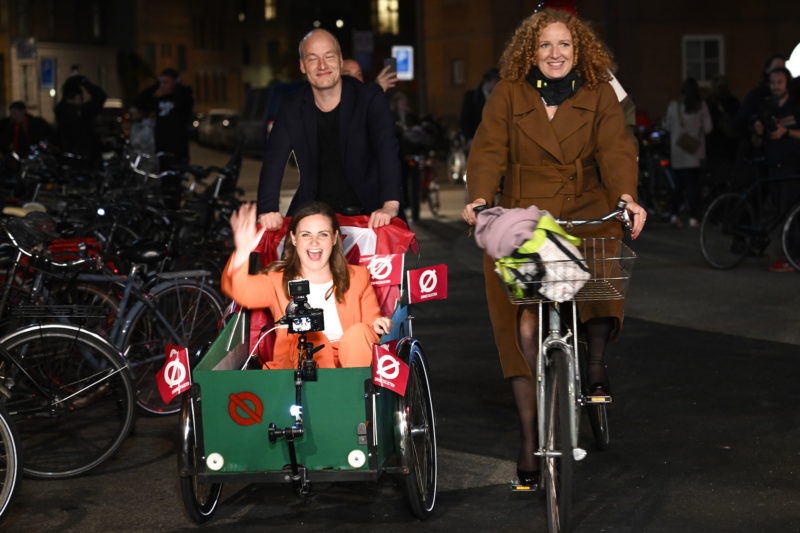 Here's a better photo of the Red Green Alliance on their bikes. Photo: Nils Meilvang/Ritzau Scanpix
10:05pm: "Liberal Alliance is back"
Liberal Alliance leader Alex Vanopslagh arrives in front of supporters to the sound of The White Stripes' "Seven Nation Army" and proclaims "Liberal Alliance is back".
The libertarian party has seen a bold election strategy which targeted young voters on social media like TikTok and Twitter pay off. Current projections put them on 7.7 points, gaining 10 seats.
9:49pm: Social Liberal leader gives speech
Social Liberal leader Sofie Carsten Nielsen is the first party leader to give a speech in front of supporters this evening. Traditionally, all leaders will do this during the course of election night.
The Social Liberals are facing a stinging defeat after being the party that forced the election to be called. Carsten Nielsen is acknowledging in her speech that they will lose seats.
9:45pm: Denmark Democrats jump forwards in prognosis
The prognosis, which DR says is a lot more reliable than the exit poll given it relies on 20 percent of the votes, is also excellent news for Inger Støjberg's Denmark Democrats, the new nationalist conservative party. Støjberg's party is now on course to become the third-largest party in parliament — ahead of the Moderates — with 10 percent and 18 seats (mandates).
The Moderates are projected 9 percent and 16 seats.
The red and blue blocs are almost tied, with 80 and 79 seats respectively, meaning Rasmussen could still place either past the decisive 90 seats.
9:40pm: New prognosis gives Social Democrats boost
A new prognosis by DR, with 20 percent of the votes now counted, is good news for the Social Democrats. The prognosis gives PM Frederiksen's party 25 percent of the vote share, which would be a more comfortable result than the exit poll's 23.1 percent.
9:29pm: Disappointed Liberal compares Conservative leader to Liz Truss
Claus Hjort Frederiksen, a former Liberal defence minister who is retiring from parliament after this election, is clearly not happy with Conservative leader Søren Pape Poulsen.
In comments to TV2, he also criticised the Conservatives for wanting to cut the top tax rate, instead of broad tax cuts advocated by the Liberals. The two parties are blue bloc allies.
Hjort Frederiksen compared Poulsen with recently-ousted British PM Liz Truss, who he said was "carted away on a trailer" by her own party after trying to implement comparable tax policies.
9:21pm: Wear a helmet
The Red-Green Alliance leadership are getting a bit of a hammering on social media for not wearing bicycle helmets on the way to their election event. Lead political spokesperson Mai Villadsen and senior ideologue Pelle Dragsted appear to feature in the photo.
Bruger man ikke cykelhjelm i @Enhedslisten? Eller er de bare bange for at lave 'Nyrop'? 🐣#dkpol #valg2022 #ftvalg22 pic.twitter.com/QypOJoMWtS

— Andreas Hemmeth / DJ Encore (@hemmeth) November 1, 2022
9:10pm: Moderates want to govern with Social Democrats and Liberals
All eyes will be on Lars Løkke Rasmussen's next move, given he could swing the election either way by declaring for either bloc.
But Rasmussen's Moderates are so far sticking to their position of wanting to govern with both the Social Democrats and the Liberals, the two parties with traditionally opposing PM candidates.
"I am incredibly happy. There are suggestions that Danes have shown a lot of faith in us today," Moderate candidate Jakob Engel-Schmidt told DR.
"I hope we get a government with the Liberals, Social Democrats and Moderates," he said.
The Liberals have categorically ruled out governing with current PM Mette Frederiksen of the Social Democrats, but Frederiksen is open to the idea.
8:50pm: Exit poll gives a lot to think about
The likely kingmaker position of Lars Løkke Rasmussen and the Moderates is one of just a number of takes to be considered from the exit poll. Here are a few others:
Danish People's Party and Alternative both survive as parliamentary parties by reaching 2 percent threshold
The Social Liberal (Radikale Venstre) party, who forced the early election, could lose two thirds of their seats
The Liberals could suffer a huge electoral defeat but still be a position to take the PM seat, contingent on agreements between right wing parties and the Moderates
The Conservatives will also be hugely disappointed, going from polling near 15 percent during the summer to just 5.5 percent in the exit poll
An inventive election campaign by Liberal Alliance looks to have paid off — they could triple their number of MPs.
8:46pm: Has forcing election backfired on the Social Liberals?
Here's my considered guess.
Thanks for following! They have certainly gone backwards compared to 2019 and I have seen experts in the Danish media say that forcing the election has backfired on them. They may also have lost voters to the Moderates.

— Michael Barrett (@MLBarrett15) November 1, 2022
8:41pm
Here's a good graphic from Europe Elects which helps to visualise the exit poll. Europe Elects is using TV2's exit poll, whereas we have reported DR's up to now — hence the slight difference in the numbers.
Denmark, TV2 exit poll:

A-S&D: 25% (-1)
V-RE: 14% (-9)
M-*: 9% (new)
F-G/EFA: 9% (+1)
I→RE: 8% (+6)
Æ-*: 7% (new)
Ø-LEFT: 6% (-1)
C-EPP: 6% (-1)
B-RE: 4% (-5)
D~NI: 4% (+2)
Å→G/EFA: 4% (+1)
O-ID: 3% (-6)
…

+/- vs. 2019 election
➤ https://t.co/yVB6amOjE6 pic.twitter.com/jYX5ol1V9L

— Europe Elects (@EuropeElects) November 1, 2022
8:28pm: Exit poll in full
Here's the full exit poll from DR, with vote share, projected seats and, in brackets, seat loss or gain since 2019.
Social Democrats 23.1 percent, 42 (-6)
Liberal 13.5 percent, 24 (-19)
Socialist People's Party (SF) 9.6 percent, 17 (3)
Moderates 9.3 percent, 17 –
Liberal Alliance 9 percent, 16 (12)
Denmark Democrats 6.9 percent, 12 –
Red Green Alliance 6.2 percent, 11 (-2)
Conservative 5.5 percent 10 (-2)
Social Liberal 4.7 percent 8 (-8)
Alternative 3.9 percent 7 (2)
Nye Borgerlige 3.8 percent 7 (3)
Danish People's Party 2.5 percent 4 (-12)
Independent Greens 1.3 percent – –
Christian Democrats 0.4 percent – –
8:25pm: Moderates set for decisive seat share
According to the exit poll from national broadcaster DR, the 'red bloc' of allied parties on the left will gain 85 seats in parliament, with the conservative 'blue bloc' on 73 seats. 90 seats are needed for a majority.
The centrist Moderate party is projected to take 17 seats, giving it the potential to hand either side power by backing them to lead government.
Full break down of exit poll predicted seats and vote share coming up now.
8:00pm: Social Democrats lose vote share, Moderates storm into parliament in exit poll
Exit polls have the governing Social Democrats on 23.1 percent of the vote share with the Liberal party on 13.5 percent. The Conservatives have a disappointing 5.5 percent.
The Moderates take an impressive 9.3 percent of the vote share, which could give leader Lars Løkke Rasmussen the kingmaker role he covets. Thee Denmark Democrats will also likely be pleased with their debut showing of 6.3 percent.
The Social Liberal (Radikale Venstre) party takes 4,3 percent.
The Danish People's Party survives the 2 percent threshold that would have taken it outside of parliament, with 2.5 percent in the exit poll.
The headline result of the night could be the libertarian Liberal Alliance party, which is projected to take 9 percent by the exit poll. That represents an impressive turnaround from the party's 2019 return.
It's worth keeping in mind that there is still statistic uncertainty attached to exit polls.
We'll follow this up shortly with the full list of parties and how their vote share could transfer to seat mandates.
7:50pm: 10 minutes to exit polls
The exit polls for the 2022 election will be out in 10 minutes. Don't go away.
7:34pm: "Have you voted?"
Game of Thrones actor Pilou Asbæk wants to know if his Twitter followers have voted yet. His character in the popular HBO fantasy series was less democratic.
Har du stemt? #dkpol

— Pilou Asbaek (@PilouAsbaek) November 1, 2022
7:26pm: Turnout recovers after office hours
We reported earlier that turnout was on target to be lower than at the 2019 election, but it may have improved after the end of the working day.
A survey by news wire Ritzau in 19 municipalities at 6pm found 72.9 percent said they have now voted. That is still lower than the 74.6 percent at the same time of day in 2019, but the difference has shrunk compared to earlier.
7:12pm: A reminder of why we're having an election now
You may have noticed that the last election in Denmark was in 2019, only three-and-a-bit years ago. So why the early vote?
The election was triggered by the "mink crisis" that has embroiled Denmark since the government decided in November 2020 to cull the country's roughly 15 million minks over fears of a mutated strain of Covid-19.
The decision turned out to be illegal, however, and the Social Liberal (Radikale Venstre) party, which props up Mette Frederiksen's minority Social Democratic government, threatened to topple it unless she called elections to regain the confidence of voters.
7:03pm: Exit poll in an hour
There's now less than an hour until the exit polls can be published, which could give us a better idea of how the pieces will fall in this election.
6:56pm: Liberal Alliance leader predicts Ellemann-Jensen as PM
The election is an extremely difficult one to predict, not only because the result will be close but also because former PM Lars Løkke Rasmussen's new centrist party, the Moderates, could yet support either of the competing factions from the left- and right-wings, potentially tipping the scales in favour of one or the other.
READ ALSO: Three candidates for PM in Denmark, and one wild card
Liberal Alliance leader Alex Vanopslagh has nevertheless ventured a prediction in a comment to broadcaster DR. Unsurprisingly, Vanopslagh reckons a conservative or 'blue bloc' government will prevail.
"Jakob Ellemann Jensen. With Lars Løkke as Finance Minister", Vanopslagh said when asked who would be the next PM.
6:39pm: What have party leaders been up to today?
Have some photos of selected leaders from some of the political parties (there's not enough bandwidth to include all 14 of them). They have been campaigning and casting their votes today.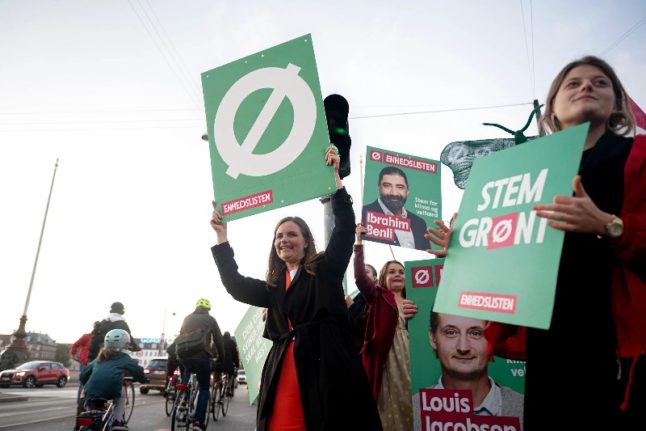 Mai Villadsen from Red-Green Alliance on Queen Louise's Bridge in Copenhagen. Photo: Ida Guldbæk Arentsen/Ritzau Scanpix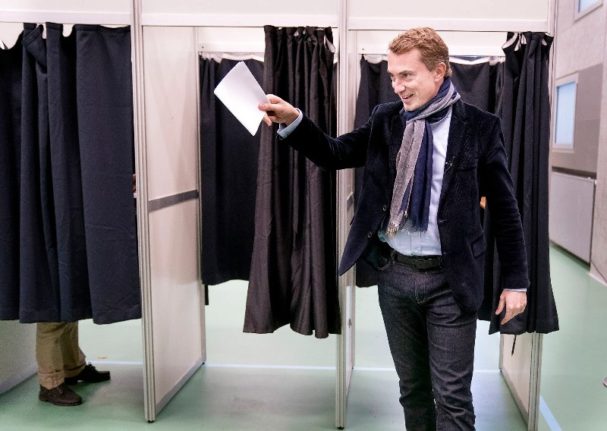 Morten Messerschmidt of the Danish People's Party casts his vote in Ordrup. Photo: Liselotte Sabroe/Ritzau Scanpix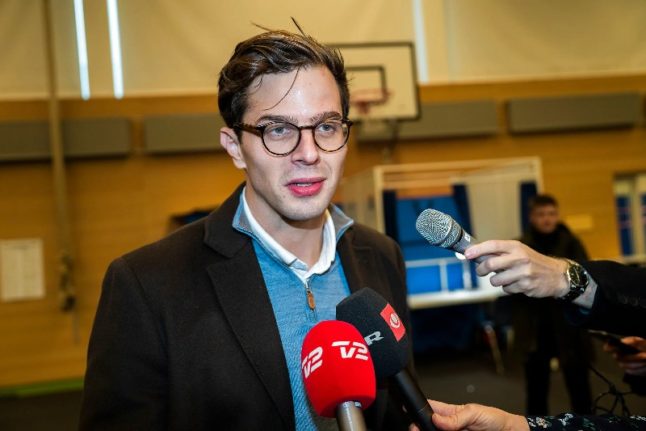 Alex Vanopslagh of Liberal Alliance looking a bit worse for wear after voting in Copenhagen. Photo: Martin Sylvest/Ritzau Scanpix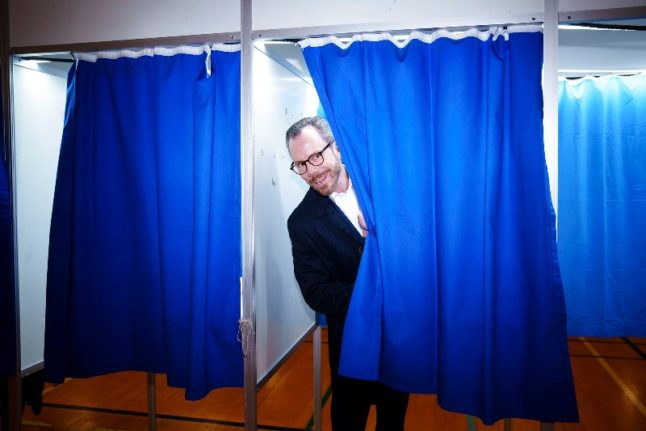 Liberal Party leader Jakob Ellemann-Jensen channels last night's Halloween spirit. Photo: Bo Amstrup/Ritzau Scanpix
6:23pm: Election day news
News is generally quiet while people are out voting, but we do have a couple of reports from today.
Initial data suggests that turnout is going to be lower than it was at the last election in 2019.
In 13 municipalities surveyed by news wire Ritzau, 53.2 percent of those entitled to vote had ticked their boxes at 4pm. 
At the same time in the 2019 parliamentary election, 62.8 percent had voted in the municipalities. This includes postal votes, which are higher this year than three years ago.
However, in 2019 the election took place on Constitution Day, when many people had the day off. 
Denmark generally enjoys a high level of election participation.
Meanwhile, a measure by the (outgoing?) government to help people pay high energy bills has taken effect. First proposed by the Social Democrats in September, the scheme allows delayed and staggered payments of energy bills that overstep costs from 2021. We have both a report on the measure taking effect and an article explaining how households go about postponing their bills, courtesy of my colleague Emma Firth.
6:06pm: Checking in
Good evening!
The Local Denmark editor Michael Barrett here. I'll be updating this blog throughout this evening bringing you the latest news from exit polls, voting counts and political manoeuvres as they happen.
If you have any comments or pictures you'd like to share, feel free to tweet me or comment at the bottom of this article. I'd be happy to hear from you.
It's now less than two hours until Denmark's polling stations close at 8pm. Make a note of that that time. It's important because exit polls can be released as soon as the polling stations are closed. The exit polls will give us a good idea of how closely the election result is likely to reflect opinion polling.
READ ALSO: Final opinion poll suggests no clear majority in Denmark's 2022 election
12pm: Welcome to our live blog 
Good afternoon!
Polling stations across Denmark are open for an impossible-to-predict election which could give Mette Frederiksen a second term as Prime Minister or hand control to one of three potential replacements.
Will Frederiksen scrape a majority? Could it be given to her by erstwhile rival Lars Løkke Rasmussen? Or will Rasmussen help to return the conservative 'blue bloc' to power?
Stay tuned as we find out.
We're going to keep you covered as results come in here on this live blog, which we will begin updating from around 6pm on election day, November 1st.
These are the important times you need to keep in mind this evening:
8pm: polling stations close
8pm: first exit polls are released by broadcasters TV2 and DR. These are based on interviews with voters shortly after they have left polling booths.
9pm: first result prognosis. An hour after polls close, it will be possible to make a relatively firm indication of the overall outcome, in terms of mandate (seat) distribution between parties.
10pm: final results from constituencies begin to roll in.
Midnight: by this time we should know the distribution of all of the 179 seats in parliament – but it remains to be seen whether the winner of the election will be immediately clear.
Are you a member of The Local? If not, consider joining us. If yes, thank you, your support helps us dedicate time and resources to this.
READ MORE: