For the third time, Copenhagen was ranked as having the cheapest international schools in Europe, in research from The International Schools Database. Copenhagen was also given top ranking in 2019 and 2020.
Copenhagen was placed 73rd out of 76 cities for the cost of international schooling (the more expensive the city, the higher on the list), with only Casablanca, Cape Town and Ipoh – Perak in Malaysia being cheaper. In Europe, Copenhagen was 31st out of 31.
The research compared 76 cities in 50 countries in 2022. Some schools that didn't disclose their prices were not included.
Out of the 76 cities included in this year's study, the average price of international school increased in 43 cities. Copenhagen was one of eight cities where the average price slightly reduced. 
The study showed that in 2022, the average yearly price for an international school in Copenhagen was 4,138 euros. The lowest yearly price was 3369 euros and the highest price was 17,468 euros per year.
The price range is smaller compared to other cities with just one school exception, costing 17,468 euros per year.
"In Denmark, both public and private schools (which includes international schools) are all subsidised by the government. This explains why education is so affordable – comparatively speaking – in a country with a reputation for a high cost of living," Andrea Robledillo, co-founder of the International Schools Database, said in a comment.
Copenhagen's consistent placing as the cheapest city in Europe for international schools can also be seen as encouraging given a significant number of locations saw prices go up in the latest analysis.
"Of the 76 cities included in this year's analysis, 43 showed an increase in median price since last year. In most cases this increase was marginal or below 10 percent, however the median price in certain cities increased beyond this," including a 17 percent and 16 percent rise in Istanbul and Vienna respectively, Robledillo noted.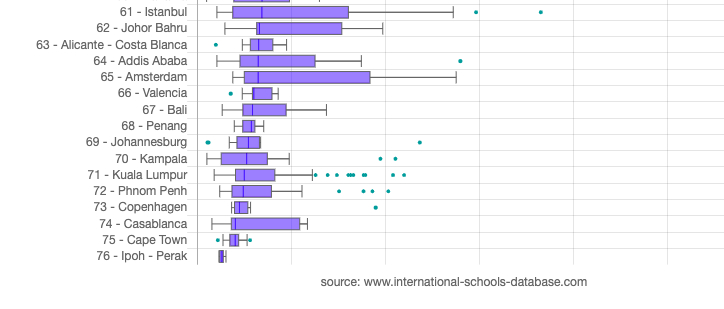 A screenshot showing Copenhagen's position near the bottom of the list of the cost of international schools by city. Graph: www.international-schools-database.com
Switzerland came out as the most expensive country in Europe for international schools. The Swiss cities Zurich, Lausanne-Vaud and Geneva have prices between 21,000 euros and 26,000 euros per year.
New York was most expensive overall, with international schools costing an average of 39,500 euros per year and the most expensive costing 57,000 euros per year.
The average price for the cheapest international school in Ipoh – Perak in Malaysia – only added to the survey this year – was 2,419 euros. 
READ MORE: Government drops plans to move welfare education to smaller Denmark towns