The new flight route opened on December 14th and operates three times a week on Monday, Wednesday and Friday.
The aim is to link the two key offshore wind hubs in the UK and Denmark, making it easier for engineers, technicians and other workers to travel quickly and directly between the Humberside and Esbjerg. The most direct existing route between the two regions up to now has been the Ryanair service between Manchester and Billund airports.
Renewable energy business between the two regions has been growing, with companies such as Ørsted and Siemens Gamesa investing in both. Siemens Gamesa, for example, manufactures blades in Hull and exports them to Denmark. 
"The Humber and Esbjerg have had a close relationship for a long time. The city was founded in 1868 and in 1875 Danish shipping company DFDS opened the first UK shipping route from the port," Jesper Frost Rasmussen, the Mayor of Esbjerg said in a speech after the inaugural flight in December. 
"It still operates daily for freight services to the Humber region at the Port of Immingham," he said.
"The North Sea is the lifeline between the two and will continue to be for years to come. Primarily it has been the waves that brought us closer together, now we share the wind," he added. 
Roger Hage, Eastern Airway's commercial director, told Business Live: "It is another step in trying to develop connectivity between the Humber and key European regions, we're trying to aid employment and the commercial prosperity of the estuary as a whole."
Can tourists use the flight?
The Local reporter Emma Firth used the flight on the 28th December and was one of nine passengers on board. 
"Both airports are so small that it meant check-in and security took less than 30 minutes and we set off ten minutes after boarding the plane," she said.
"My flight was at 9:45am UK time and I was out of Esbjerg airport by 1230 Danish time.
"Be prepared that it is a small propeller plane so you can feel turbulence more. The flight was extremely quiet so I'm not sure how it would work if I took my three small children with me as you would very much know about it, as a fellow passenger. But in terms of a quick, efficient and friendly service, I would highly recommend. Complimentary hot towels, drinks and snacks are included on the flight, which was a novelty," she said.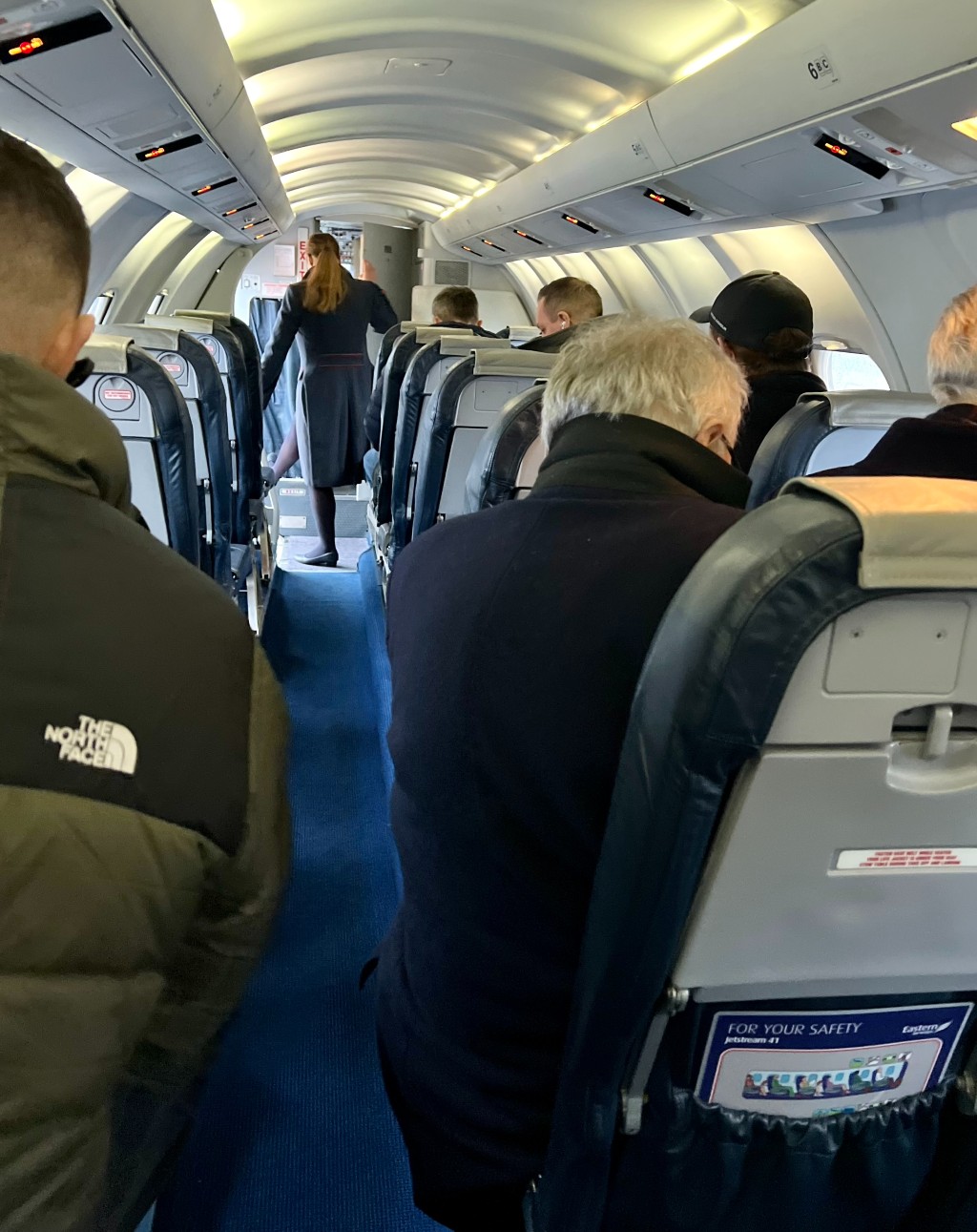 Inside the BAe J41. The new flight from Humberside to Esbjerg has 29 Seats. Photo: Emma Firth
The plane is a BAe (British Aerospace) Jetstream 41 (J41). It has 29 seats and the flight time is 1 hour 50 minutes. 
As Humberside and Esbjerg are both regional airports, you do not need a lot of time to check in. Humberside Airport told The Local that arriving one hour before your flight time is fine. Check-in opens two hours before departure and closes 30 minutes before departure at both airports.
The route is intended to support tourism as much as business, Humberside Airport said. Esbjerg is Denmark's fifth largest city, with easy access to Legoland Billund and rail connections to Copenhagen. Humberside airport has links to Yorkshire cities such as Hull, York, Leeds and Sheffield.
Humberside Airport told The Local that more routes to Denmark could be added, or other routes into Esbjerg offered, depending how this service develops. 
Scandinavian Airlines launched a service between Humberside and Copenhagen in late 2013, but it was pulled the following April due to lower than anticipated demand.