Presented by copenhagen international school
It's a small world: the Danish school empowering children to be global citizens
When you relocate to a new country, it can be a real challenge to find a school where your child will quickly settle – and where the values match your own.
At Copenhagen International School (CIS), pretty much everyone knows what moving to a new place is like. That – along with the International Baccalaureate (IB) and teaching in English – helps newcomers to quickly adapt. The diversity of a school with 60 languages also plays a vital role in the broader educational experience.
The Local spoke with two students at Denmark's top international school – for children aged three to 18 – to find out how it promotes equality, empathy and empowerment.
Copenhagen International School is open for applications all year round and digital tours are available no matter where in the world you are – find out more now
The many benefits of diversity 
"CIS acts as a forum where we can all share our different experiences," says Hungarian-born Jazmin Seregi, 17. "This is particularly good in a history class when people can tell personal stories about an event from their grandparents or parents."
The huge range of nationalities and cultural backgrounds represented by the school's 900 students and 170 staff "allows us to view the world from a different side of things," she adds. "Our maths teacher Fred even greets each student in their home language."
The school's purpose-built waterside campus – featuring modern buildings covered in solar panels – is an eye-catching 21st century addition to the skyline in Nordhavn. Teaching is in English with the option for after school classes at native level in a child's mother tongue.
CIS was also one of the co-founders of the IB in 1968. Today children can follow the IB Primary Years Program, Middle Years Program and the IB Diploma Program.
The spirit of inquiry and internationalism that goes with the IB is in the school's DNA, which is one reason why global talents send their children to the school. If you're a high-flyer whose career takes you from one country to another, it's the natural choice in Denmark.
Neel Dalela, a French-born 11-year-old of Indian heritage, has been at the school for five years since moving to Copenhagen from Helsinki. "The diversity here makes us more open-minded about different cultures and languages," he says. 
It has also helped him develop new interests: he gave soccer a go after encouragement from an American friend and took up origami after learning about it from a Japanese student. "Origami has been proven scientifically to be good for the brain," says Neel of his new hobby.
900 students, 60 languages and one community: learn more about Copenhagen International School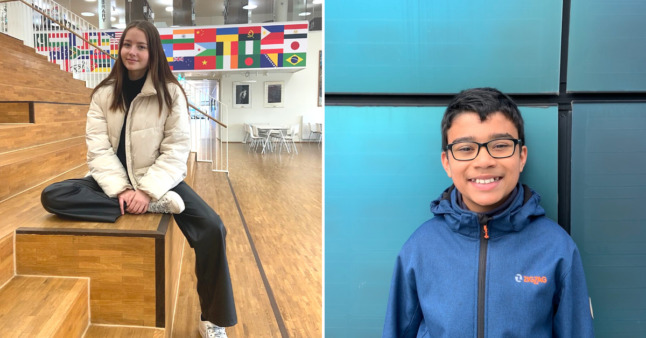 Compassion, sustainability and peer support
The school's core values of integrity, creativity, compassion and inclusion aim to inspire both academic and personal growth. Students are also encouraged to take part in active community service and to engage with topical issues. 
Neel says these values help him think about "the greater good" when it comes to topics such as sustainability, which forms an important part of how CIS teaches the IB curriculum. Articles he has written for the school's website and social media channel include a piece on how having plants at home during the pandemic could help cut both carbon dioxide and feelings of loneliness. 
Peer review is another important pillar of the school's approach, helping children to develop skills in listening and self-reflection.
As Jazmin, who secured her place at CIS through a sustainability scholarship, puts it: "The positive peer feedback we get for good behaviour makes you want to do good things even when people are not looking. Explaining our perspectives and reasoning to each other also allows us to develop confidence but also to spot weaknesses in our own arguments – and everyone trusts a person who can do that."
Neel is also a big fan, saying peer review helps him learn how to collaborate and the art of giving "constructive feedback".
A change for the better 
Children who graduate from CIS go on to a wide range of leading universities in Denmark and internationally. The school's annual fees, which start at 126,000 Danish kroner, ensure a world-class education and applications are open throughout summer and all year round. You can also book a guided digital campus tour, wherever you are in the world. Far from being simply a pre-recorded video with no interaction, you'll get a member of the admissions team personally guiding you through the campus at your own pace.
Jazmin is hoping to study biomedicine at the Karolinska Institute in Stockholm or pharmaceuticals at Copenhagen University. Wherever she ends up, she says her time at the school has helped her to understand the value of being herself first and foremost. 
"Authenticity is entwined with confidence," she says. "Here, nobody expects you to be something you're not." Furthermore, the teachers "go above and beyond" when it comes to caring about their students' well-being.
The sense of community is also evident in the unity among staff and students when it comes to raising awareness of topical issues.
Jazmin says the whole school wore denim for a recent sexual assault awareness day and credits a speech by one of the student leaders of the school's Racial and Social Justice Union for helping her to understand the power of individuals to create change.
"If people think they can leave it for others to make a change, they're really in the wrong," she says.
Looking for high quality English language education in Denmark? Find out more about Copenhagen International School and its admissions process – and why not even book a digital tour?
This content was paid for by an advertiser and produced by The Local's Creative Studio.
See Also