How does this work?
We're using ChatGPT, an open-source AI model designed for dialogue. Essentially, you type in a question and it generates a response. After testing its article-writing skills (which in some cases were pretty good, in others… not so much), we decided to test how good it was at telling jokes.
Spoiler alert: it wasn't entirely fruitful.
First off, I asked the AI to "tell me a joke about Copenhagen".

That was a decent opening effort in my book, although I'm an unashamed fan of dad jokes. I gave it another chance.

This one was well wide of the mark. Denmark hasn't had a king since 1972. I pulled up the AI on this and it skirted the issue.

I took the AI's cue for the next one and asked it for a joke about the Queen, but its sense of humour seemed to have deserted it.

ChatGPT probably has a point here, though. The conversation was getting a bit royal-heavy, so I went for a different tactic, asking it to "tell us a joke about rye bread".

This was just about passable I think, but didn't really raise a laugh. Next up: a real challenge.

This won me over. Although it technically isn't a joke, the AI just beautifully skewered the most worn-out Danish cliché of all time.
I told it as much and then asked it it to "tell me a joke about the Danish weather"…

Oh dear. Make of this what you will but my take is that it's not a very funny subject.
I had to start a new chat because of the error and by this point, I was getting a bit tired of the traditional joke format. So I asked it to write a standup comedy routine about Danish politics.
There was no dice here, so I changed tack and asked for a sitcom scene set in a Danish bakery. Here's a section of the scene: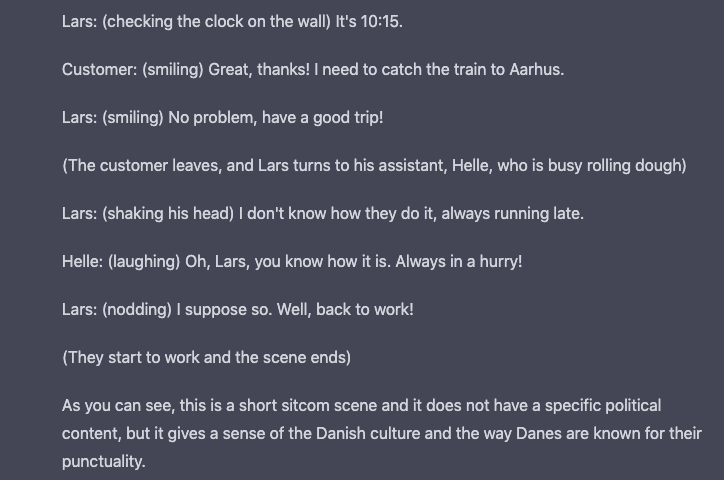 I like the choice of names but as you can see, the punchlines are scant and I received a ticking off at the end for having requested jokes about politics before.
I concluded the AI's sense of humour is not easy to "get", which gives it something in common with Danish humour at least. To finish off, I asked for a haiku about Jutland and received this in reward.

READ ALSO: Nine terrible AI-generated jokes about Swedish things