What happened?
Police said they first received reports of the shooting at 5.37pm.
They later confirmed that shots had been fired in two locations inside the shopping centre.
Copenhagen police then initiated what was described as a "major operation". Images published on Twitter showed heavily armed police outside the shopping centre as shoppers were led away from the area.
A suspect was arrested but officers carried out operations across the entire area to ensure there were no additional gunman.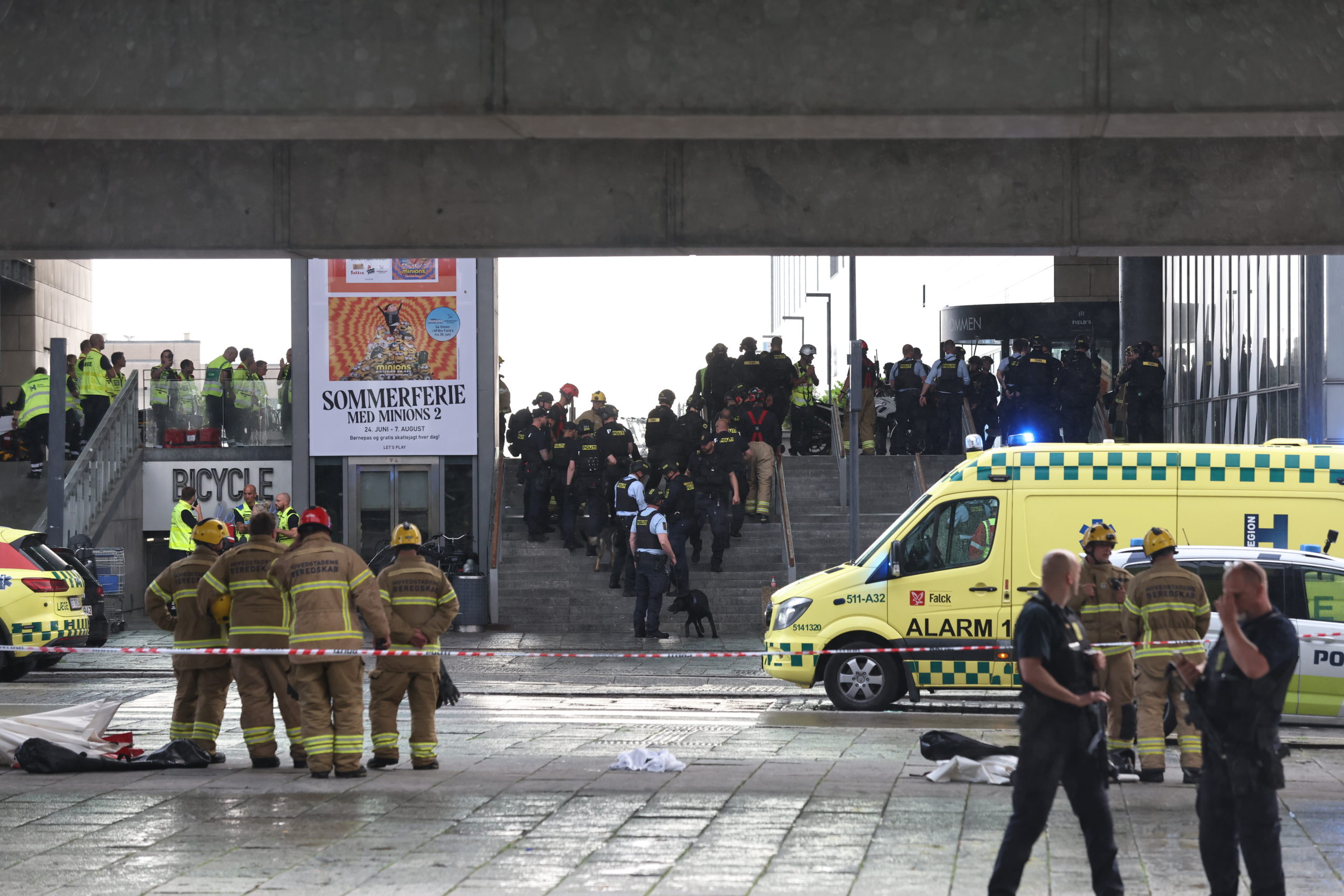 An ambulance and emergency response teams in front of the Fields shopping mall in Copenhagen. Photo: Olafur Steinar Gestsson/Ritzau Scanpix
Charged in court
On Monday afternoon, the 22-year-old man appeared before a judge in the Copenhagen City Court. He was taken to court by armed officers.
Wearing a blue t-shirt, he listened as the indictment for murder was read out, before the hearing continued behind closed doors.
He was charged with having committed three murders and seven attempted murders in the shopping centre Field's on Amager in Copenhagen on Sunday.
After a nearly two-hour-long hearing, a judge ruled that the man would be remanded in a closed psychiatric ward for 24 days, which can then be extended, according to police.
The 22-year-old is charged with killing a 47-year-old man, a 17-year-old girl and a 17-year-old boy. In addition, he is charged with seven counts of attempted murder. The charges against him were read out at the beginning of the court hearing by senior plaintiff Søren Harbo.
Where did it happen?
The shooting happened at Field's shopping mall in Amager, Copenhagen, which is an area between the city centre and the airport.
It's just a few hundred metres away from the Royal Arena, where Harry Styles was due to perform that evening. His concert was later cancelled.
The shopping mall is now closed until at least Monday 11th July, according to its website. Its car park also remains closed for now.
What do we know about the victims?
The three killed have been identified as a Danish woman and man, both aged 17, and a 47-year-old Russian citizen residing in Denmark. One of them worked in the cinema in the shopping centre, their employer said.
Another four were seriously injured in the shooting: two Danish women, aged 19 and 40, and two Swedish citizens, a 50-year-old man and a 16-year-old woman. On Wednesday they were said to be in a stable condition. 
Three others sustained light injuries from the gunfire: two Danish girls aged 15 and 17 and a 45-year-old Afghan man living in Denmark.
Copenhagen Police said in a press release on Monday afternoon that 20 people had suffered minor injuries.
READ ALSO: Police confirm three killed in Copenhagen mall shooting
Ready to help at the terror-scene in Copenhagen, Fields. #fields #terror #copenhagen pic.twitter.com/vW497truZT

— Presse-fotos.dk (@pressefotosdk) July 3, 2022
Who was the shooter?
Police have described the suspect as a 22 year old male "ethnic Dane." 
Police said the shooter, who was carrying a rifle and knife, was known to mental health services, and that he had acted alone as they ruled out terrorism on Monday. 
"Our suspect is also known among psychiatric services, beyond that I do not wish to comment," Copenhagen chief police inspector Soren Thomassen said.
According to public broadcaster DR, the man had failed to get through to a support helpline shortly before the attack, but authorities would not confirm this.
A former neighbour of the suspect, interviewed by newspaper Berlingske, said the man had been troubled since he was a child.
The neighbour, who had asked to remain anonymous, told the paper that in school the suspect had difficulties coping with the stress of too many people around him.
The day before the shootings, the suspect published videos on social media, which police have said are authentic. In them he posed with weapons, which he did not have a permit for and he talked about psychiatric medication "that does not work". 
What did witnesses say?
Some witnesses described the shooter as a man around 1.8 metres (five feet nine inches) tall carrying a hunting rifle.
Witnesses quoted by the Danish media described how the suspect had tried to trick people by saying his weapon was a fake one, to get them to approach.
"He was sufficiently psychopathic to go and hunt people, but he wasn't running," one witness told DR state television.
Other eyewitnesses told Danish media they had seen more than 100 people rush towards the mall's exit as the first shots were fired.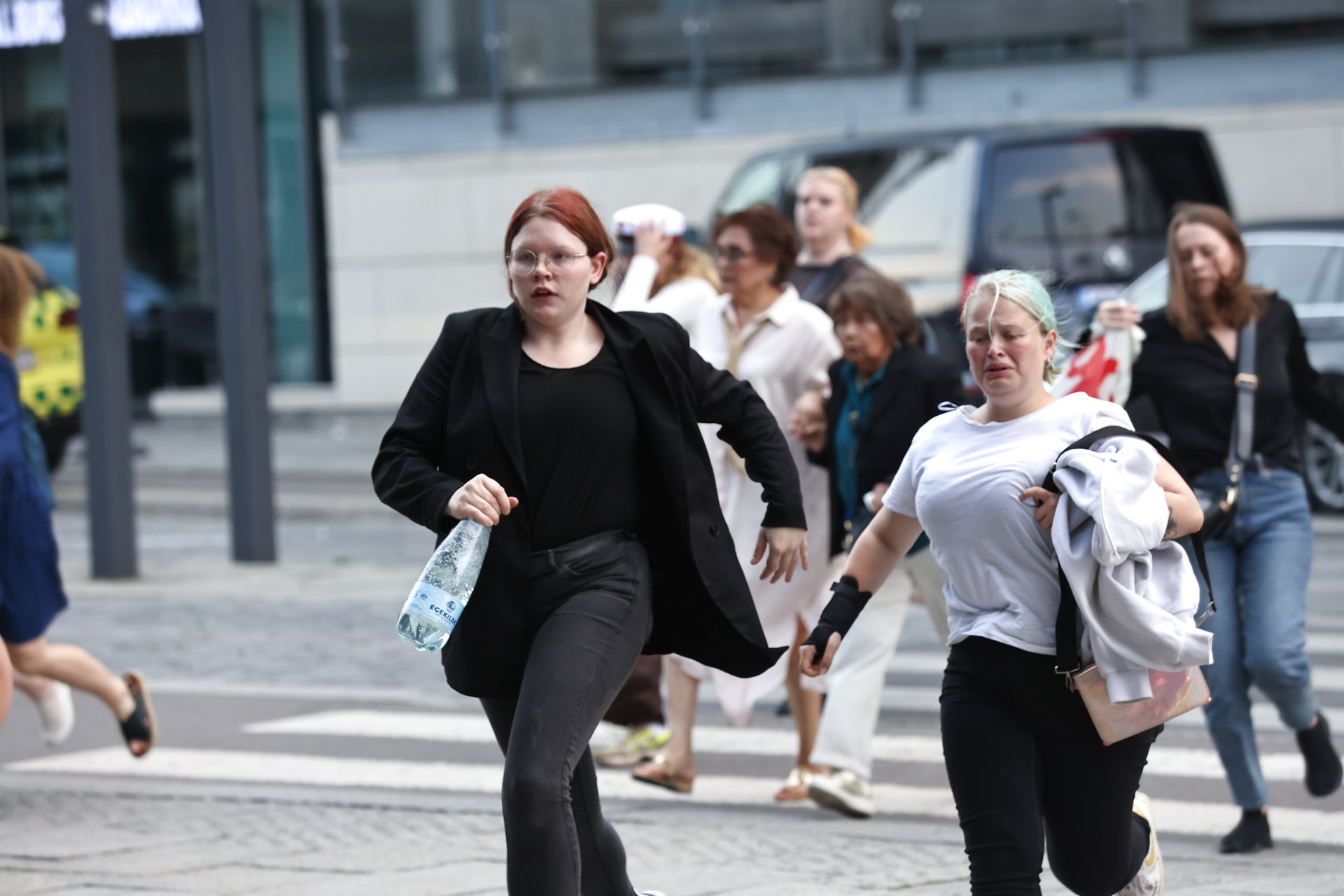 People are seen running away from the Fields shopping mall in Copenhagen. Photo: Olafur Steinar Gestsson / Scanpix
"We could see that many people suddenly ran towards the exit and then we heard a bang," Thea Schmidt, who was in the mall at time of the attack told broadcaster TV2.
"Then we ran out of Field's too."

Witness Isabella also told public broadcaster DR that said she had hidden in the mall for two hours.
"All of a sudden we heard gunshots, I heard 10 shots, and we ran as far as we could to take refuge in the toilet," she said.
What have Danish police said?
On Monday after it emerged the shooter had a history of mental illness, police chief Søren Thomassen said that the victims appeared to have been randomly targeted and there was nothing to indicate it was an act of terror.
Police said they had initiated a major operation to ensure there are no additional gunmen besides the 22 year old arrested but they believe he acted alone.
They also believe there was some form of preparation for the attack.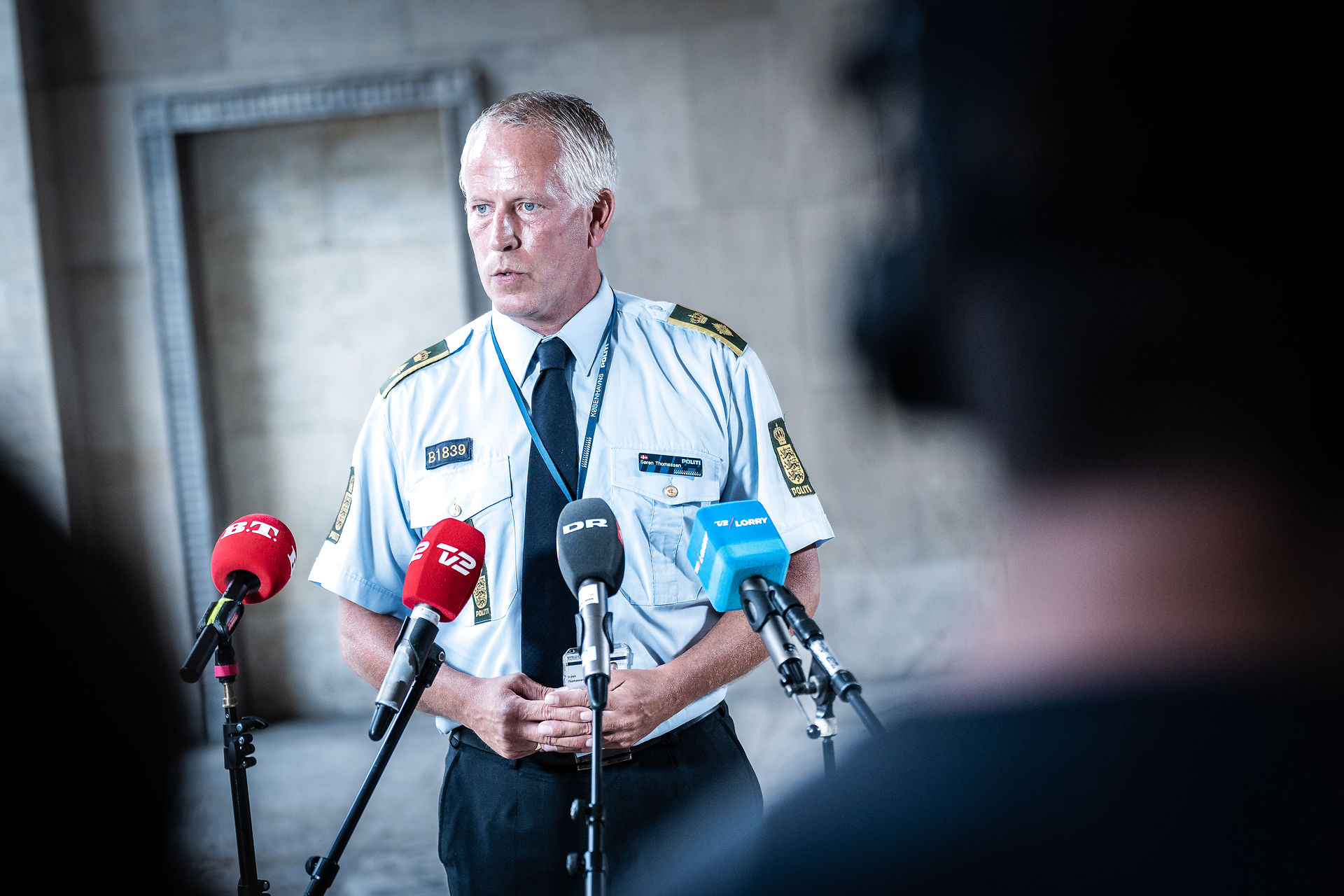 Copenhagen Police Chief Police Inspector Søren Thomassen at a press conference on Sunday evening in Copenhagen. Photo: Emil Helms / Ritzau Scanpix
En person er anholdt i forbindelse med skyderiet i Fields. Vi har fornuværende ikke mulighed for at fortælle mere om vedkommendes identitet. Vi er massivt tilstede i Fields og arbejder på at danne os et overblik. Vi opdaterer her, så snart vi kan #politidk https://t.co/84Df2mspVD

— Københavns Politi (@KobenhavnPoliti) July 3, 2022
What's been the reaction?
On Tuesday evening, thousands of people gathered outside the Field's shopping mall for a special memorial service. The Danish Prime Minister and Denmark's Crown Prince Frederik were also in attendance at the service where speeches were interspersed with musical performances.
"Cruel, unjust and senseless. Tonight, we all mourn," Prime Minister Mette Frederiksen told crowds, as she called for unity in face of the tragedy.
"It's not hard to imagine 'what if it was my child?', I'm the mother of two teenagers," Sophie Andersen, mayor of Copenhagen said during an address which was followed by a moment of silence.
"Children and young people should not die. They should be immortal," Andersen added.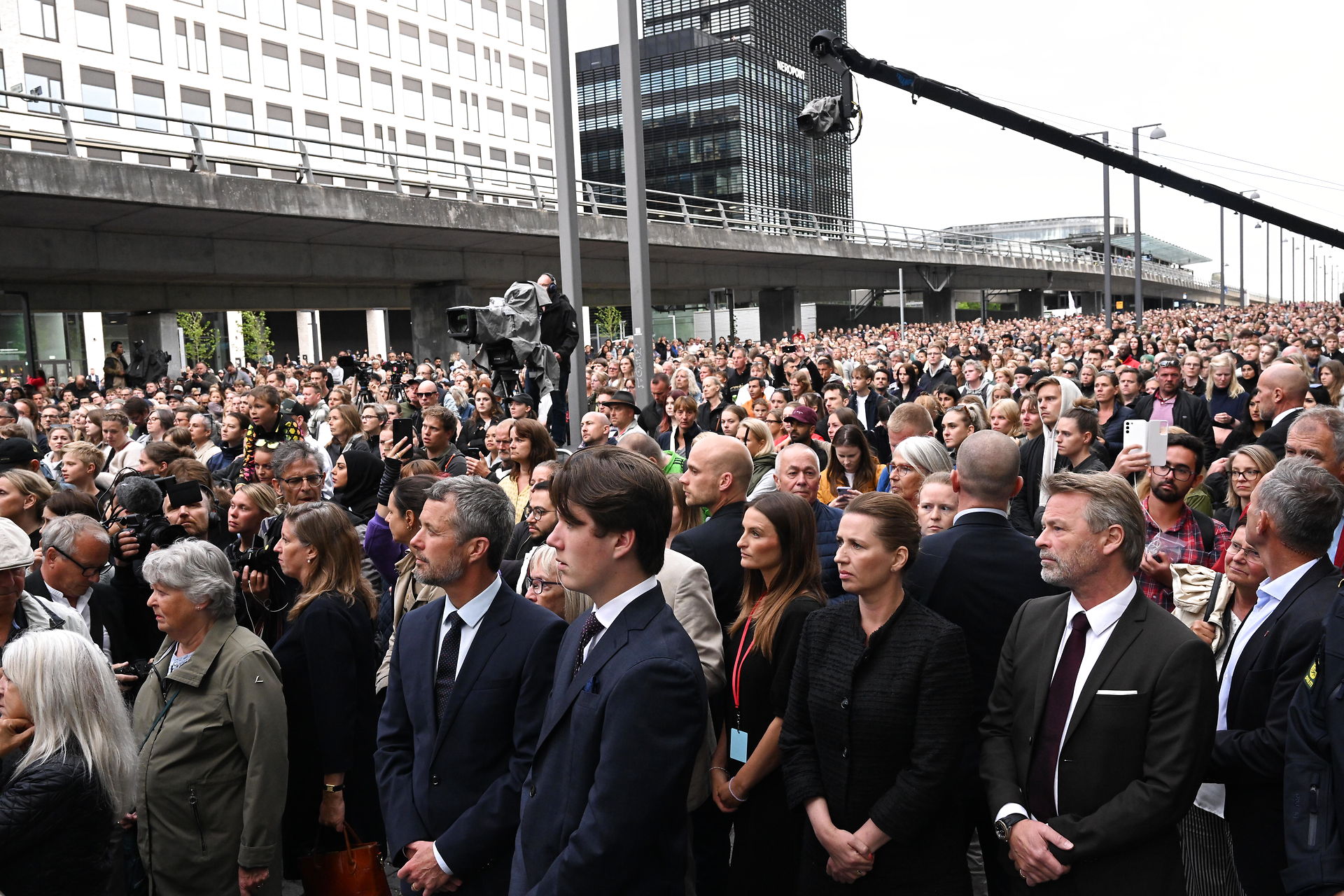 Crown Prince Frederik, Prince Christian and Prime Minister Mette Frederiksen at the memorial service for the victims of the shooting in Copenhagen on Tuesday 5th July 2022. Photo: Philip Davali/Ritzau Scanpix
On Monday afternoon, Prime Minister Mette Frederiksen and Minister of Justice Mattias Tesfaye visited the Field's shopping mall to hold a short press conference outside.
Here Frederiksen said that Denmark may never have experienced such a great contrast – from the celebrations of the Tour de France earlier in the day to the attack in Field's a few moments later.
She thanked store employees and guards who helped the wounded and evacuated people from Field's.  She also encouraged people to receive crisis help if they needed it and encouraged people to visit the Ministry of Justice's website for more information.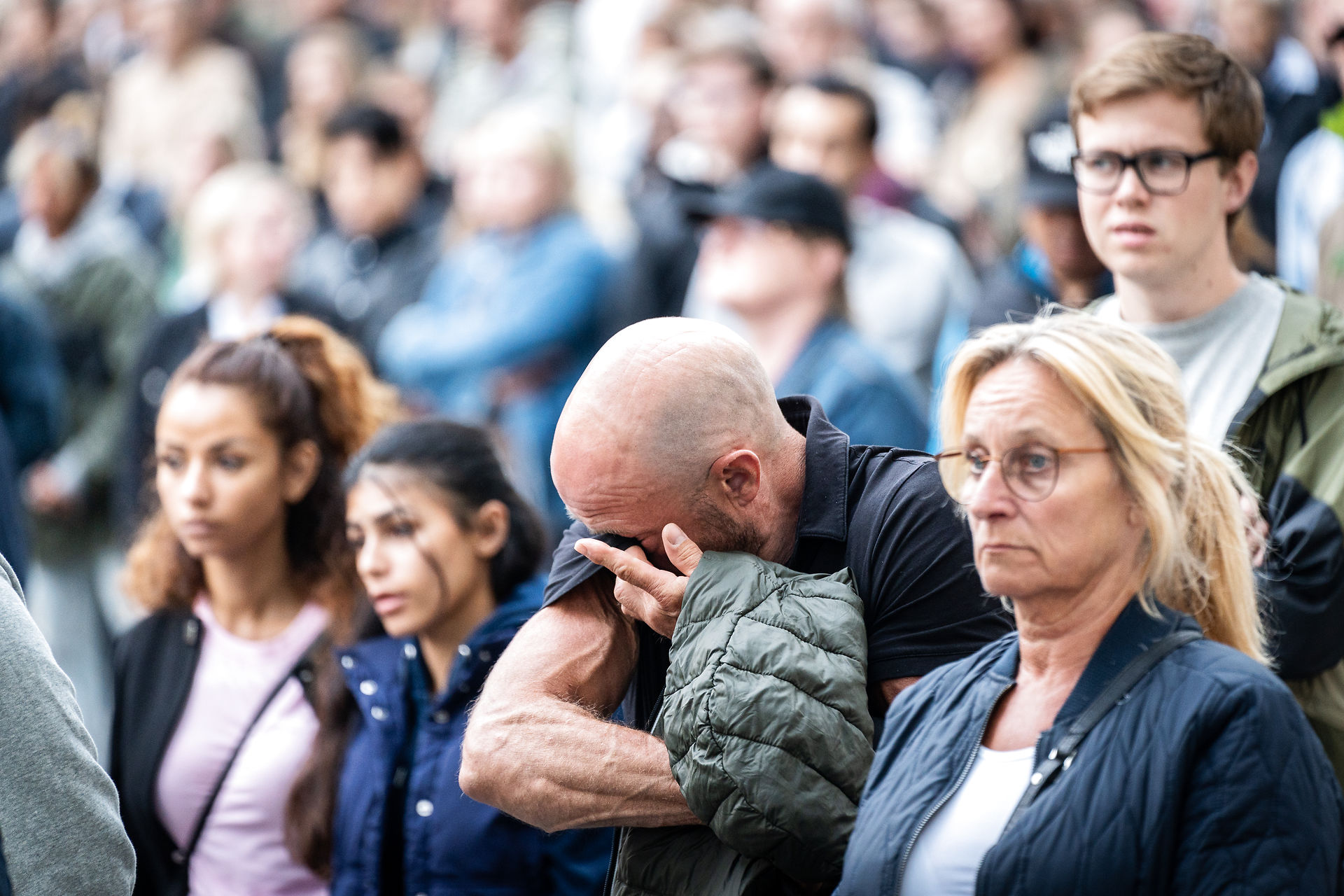 Thousands gathered on Tuesday evening at a memorial service for the victims of the shooting in Copenhagen on Tuesday 5th July 2022. Photo: Emil Helms/Ritzau Scanpix
On Monday the Danish royal family said their "thoughts and deepest sympathy are with the victims and their relatives and all those affected by the tragedy".
Cary Theodosi, who moved over three years ago from London to Ørestad, the Copenhagen area where Field's is located, told The Local she was in "pure shock and disbelief."
"Ørestad is such a quiet area, where lots of people know each other. I am very involved in the community and it has really rocked people.
"I really feel for the people affected, people that went out shopping on a normal Sunday, and were faced with this terrible experience. It's so bizarre to see your local area all over the news. We thought we'd left things like this behind in London," she said.  
Political commentator for newspaper Ekstra Bladet, Joachim B. Olsen tweeted that he was at Field's when the shooting took place. 
"I was in Field's when chaos broke out. I have spoken to a man who said his wife had been shot. A paramedic whose arms were smeared in blood to the elbows. He was not at work but had helped a victim. He wanted to enter again, but was held back. Terrible scenes."
Jeg var fields, da kaos brød ud. Jeg har talt med en mand, som sagde, at hans kone var blevet skudt. En paramediciner, hvis arme var smurt ind i blod til albuerne. Han var ikke på arbejde, men havde hjulpet et offer. Han ville ind igen, men blev holdt tilbage. Frygtelige scener.

— Joachim B. Olsen (@JoachimBOlsen) July 3, 2022
There was some controversy that the Harry Styles concert was cancelled after the shooting, with some on Twitter thinking the event, which had sold 13,500 tickets should have been allowed to go ahead. 
Following the concert's cancellation, police escorted the concertgoers to the M1 and M2 Metro lines, which were closed to other passengers, and transported them to the Vanløse station at the opposite end of the line.
Harry Styles later tweeted that he was "heartbroken along with the people of Copenhagen."
I'm heartbroken along with the people of Copenhagen. I adore this city. The people are so warm and full of love.

I'm devastated for the victims, their families, and everyone hurting.

I'm sorry we couldn't be together. Please look after each other. H

— Harry Styles. (@Harry_Styles) July 3, 2022
Questions raised over mental health care in Denmark 
The fact police said the suspected gunman was known to mental health services, has called many people to question the ten-year plan for psychiatry services in Denmark, promised by the Social Democrats.
In a statement on Tuesday, the Ministry of Health said they would work with the central region to uncover the suspect's contact with mental health services. 
The parliamentary parties have also set up negotiations with the Ministry of Health for 9th September.
READ MORE: